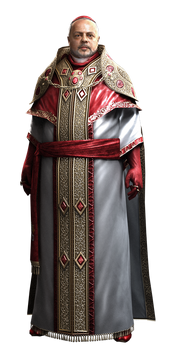 "He is Rodrigo Borgia, one of the most powerful men in all of Europe, and leader of the Templar Order."
―Mario Auditore to his nephew, Ezio.
Rodrigo Borgia (1431 – 1503), born Roderic Llançol, later Roderic de Borja i Borja, was a Spanish Cardinal and the leader of the Templar Order during the Renaissance. He was the father of Juan, Cesare, Lucrezia, and Jofré Borgia, as well as grandfather to Giovanni Borgia.
Rodrigo was Pope from 1492 to 1503, and was known as Alexander VI. He was one of the most controversial Popes of the Renaissance, and his surname became synonymous for the corrupt standards of the Papacy in that era. (read more...)

See all Featured Articles - Vote for Featured Articles
Community content is available under
CC-BY-SA
unless otherwise noted.