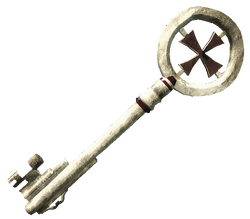 The Templar keys were a set of fives keys which together granted access to a vault in the manor on Great Inagua. The keys were entrusted to five Templars stationed in the Caribbean: Julien du Casse, Hilary Flint, Lucia Márquez, Kenneth Abraham and Jing Lang. After the pirate Edward Kenway delivered a map showing the locations of Caribbean Assassin bureaus to the Templars, the keyholders, excluding du Casse, were each assigned a bureau leader to execute.
When Edward assassinated du Casse and procured the first key, he discovered the vault it unlocked contained a desirable set of armor. Upon finding a map showing the locations and missions of the keyholders, he agreed on Mary Read's insistence to warn the targeted Assassins, provided it led him to the other four keys.
Gallery
References
Community content is available under
CC-BY-SA
unless otherwise noted.