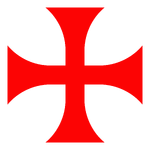 The Templar insignia, based on the mark of Cain, is the symbol of the Templar Order. It consists of a red cross pattée, because of which it is often called the Red Cross, or simply the Cross.
History
High Middle Ages
During the High Middle Ages, the Templars were a fully public order, and their soldiers wore the insignia freely on their uniforms.[1]
Renaissance
During the Renaissance in Italy, the Templars had gone into hiding and adopted more secretive tactics. Due to this, their insignia was no longer displayed publicly, but was instead use more subtly, such as on rings.[2]
American Revolution
During the American Revolution, the Templars still kept to their order's secrecy that developed in the Renaissance, keeping their insignia on less conspicuous items or not bearing the insignia at all.
References