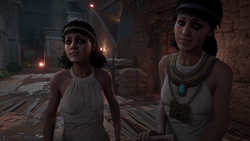 Tawe was a priestess who served alongside her twin sister Taous in Memphis during the reign of Ptolemy XIII. She was also the younger sister of Panchrates.
Biography
Along with her sister, Tawe was a priestess serving at the Temple of Ptah. Their duties included the caretaking of the Apis bull, blessing his grain and delivering him his feed. In 48 BCE, Panchrates was kidnapped in the market on orders of the Lizard, the identity of Hetepi, a priest of Ptah and secretly a member of the Order of the Ancients. Hetepi forced the twins to poison the Apis bull, threatening Panchrates' life for they ever refuse. When Tawe and Taous' actions were discovered by the Medjay Bayek of Siwa and his wife Aya, the sisters were revealed their plight, begging for their assistance to rescue Panchrates.[1]
Once Panchrates had been rescued,[1] Tawe and Taous' involvement in poisoing the Apis bull was told by Aya to the pharaoh Cleopatra, who called for them be executed. However, Aya was able to plead on their behalf by suggesting the Lizard's involvement.[2]
Appearances
References
Community content is available under
CC-BY-SA
unless otherwise noted.