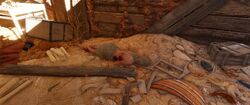 Tapti (died 38 BCE) was the younger brother of Miane who lived in a small farm outside Thebes, Egypt during the reign of Cleopatra.
Biography
Tapti lived in a small farm situated outside Thebes during the 1st century BCE with his siter Miane, with whom he had a close relationship with. At some point, Besa, a dream interpreter from Thebes, visited the farm and accepted Miane as his student, which led to Miane moving to the city. As a result, their relationship was strained, leading Tapti to develop a hatred towards Besa and an obsession to have Miane return to him.[1]
In 38 BCE, in an attempt to had his sister return to spend time with him, Tapti had Besa arrested by informing the authorities that the latter had secrets regarding the "curse" that struck the city. Tapti then stole Besa's scrolls and hid it in the cellar situated below the farm. However, word got to a group of bandits who learned of the scrolls value and location. As such, they attacked the farm and killed Tapti, taking the scrolls in the process.[1]
Tapti's death was later reported to Miane by the Hidden One Bayek of Siwa, who rescued Besa from Luxor and recovered the scrolls.[1]
Appearances
References
Community content is available under
CC-BY-SA
unless otherwise noted.