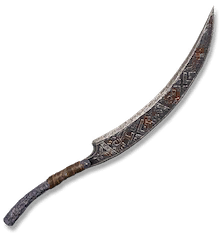 The Sword of the Free was a sword which originally belonged to the Roman general Julius Caesar.
Around 47 BCE, Caesar wielded the sword in the arena of Cyrene and defeated Polymestor, a Thracian gladiator under the employment of a Roman lanista. Despite the fact that he was given the choice to execute the gladiator, Caesar chose to spare him, bestowing him the sword and with it, his freedom.[1]
Refusing to fight in arenas any longer, Polymestor left the lanista's service, taking the sword with him. Polymestor eventually threw the sword away in the Mediterranean Sea, believing it to be bad luck. The Medjay Bayek later retrieved the sword from the sea, having been sent by the lanista to recover the sword.[1]
Weapon Statistics
Rarity
Quality (Max Level 55)
Damage (Max Level 55)
Attributes
Availability
Rare
117
523
Critical Hit Rate II

Bleeding on Hit II

Complete Are You Not Entertained?.
Appearances
References
Community content is available under
CC-BY-SA
unless otherwise noted.