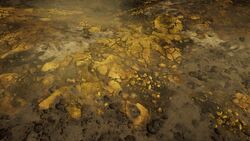 Sulfur, also called brimstone, is a naturally occurring, common volcanic substance.
History
Classical antiquity
In ancient Greece, volcanic islands like Thera, Anaphi, and Nisyros were places where sulfur could be found in abundance, dyeing their water sources bright green or even yellow.[1] The island of Melos was especially famous for its rich sulfur mines, and the substance was exported throughout the Mediterranean Sea.[2]
Renaissance
During the Renaissance, sulfur was a key component in the creation of various bombs, [3] particularly in those that were used to distract with sound.[4] Sulfur was also required, along with saltpeter and charcoal, to make gunpowder.[5]
American Revolution
During the American Revolutionary War, sulfur was used in the crafting of poison darts and black powder.[6]
Gallery
Appearances
References
Community content is available under
CC-BY-SA
unless otherwise noted.