"Artemis of the wild land, Mistress of Animals."
―Kassandra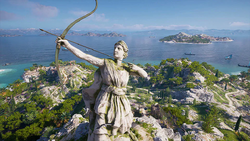 The Statue of Artemis Agrotera was a gigantic statue of the Greek goddess Artemis, located in the middle of Mykonos island.
The local populace offered a sacrifice to her before battle, at the altar by the statue.[1]
Trivia
Agrotera is Greek for 'huntress'.
On Mykonos' 'sister island', Delos, was located the counterpart to this monument: Colossus of the Naxians.
The title Kassandra mentions upon approaching the statue, "Mistress of Animals", is a term used by Homer in Iliad referring to Artemis. It was often used of any female divinity associated with animals, however.
Gallery
Appearances
References
Community content is available under
CC-BY-SA
unless otherwise noted.