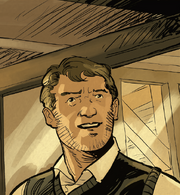 Stan (died September 1940) was the friend of Eddie Gorm and his partner in their London dockers business, the Gorm & Co.
In September 1940, they jointly made a break with their band on behalf of a gangster, Jack Turpin. Only Stan discovered the latter's double game, which turned out to be an SS spy. Turpin, who was in reality called Otto Hammerstein, proposed to them to work for the Germans, which Stan considered inconceivable. However, he was annoyed by the acceptance of Eddie, whose family had perished under the bombing of the Blitz a few days earlier. To prove his allegiance to the Nazi's, Gorm was ordered to kill Stan, to which he complied.
Appearances
References
Community content is available under
CC-BY-SA
unless otherwise noted.