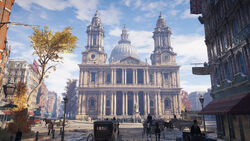 St. Paul's Cathedral is an Anglican cathedral, the seat of the Bishop of London, and the mother church of the Diocese of London. It sits on Ludgate Hill at the highest point of the City of London.
The present church, dating from the late 17th century, was part of a major rebuilding program in the city after the Great Fire of London of 1666. Built on top of the remains of Old St Paul's Cathedral, the cathedral was one of fifty-four churches designed by Sir Christopher Wren.
In 1868, the Assassin Evie Frye, while searching for a Shroud of Eden, uncovered a lead that led her to the cathedral. After solving a puzzle, a door at the summit of the cathedral's dome opened to reveal a small chamber containing a Precursor necklace. The chamber was soon after located by Templar Lucy Thorne, who was also hunting the artifact, and the two traded barbs before engaging in a duel which ended with Lucy crashing through a window and escaping with the necklace.
Gallery
Appearances
References
Community content is available under
CC-BY-SA
unless otherwise noted.