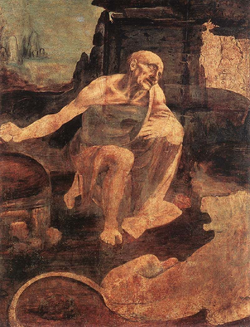 Leonardo da Vinci's Saint Jerome in the Wilderness is an unfinished depiction of Saint Jerome during his retreat into the Syrian desert.
Painted circa 1480, Leonardo's Saint Jerome in the Wilderness was eventually purchased by Ezio Auditore da Firenze and placed in the gallery at the Villa Auditore.[1] The painting was later lost during the Papal attack on Monteriggioni, led by the Templar Cesare Borgia.[2]
Six years after the attack on Monteriggioni, in 1506, Ezio Auditore - whilst looking for a kidnapped Leonardo - learned that Saint Jerome in the Wilderness held part of a map identifying the location of the Temple of Pythagoras, and that the painting was on display in the Castel Sant'Angelo.[3]
With the help of his sister Claudia's courtesans, Ezio managed to mark and reclaim the painting.[3]
Appearances
References
Community content is available under
CC-BY-SA
unless otherwise noted.