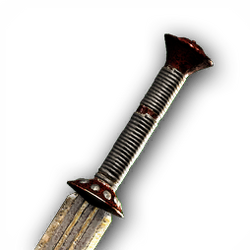 Sosipatros' Blade was an elegant sword used by the Greek mercenary Sosipatros during the 5th century BCE.
During the Peloponnesian War, Sosipatros met the Spartan misthios Kassandra at the statue of the goddess Artemis in Arkadia around 428 BCE.[1] After defeating Sosipatros once and for all, Kassandra claimed his sword for herself.[2]
Weapon Statistics
Rarity
DPS (Lvl 99)
Default Engravings
Availability
Rare
7469
+23% Warrior Damage
+40% Damage on Spartan Soldiers
Defeat Sosipatros
Description
This elegant blade was the prized possession of Sosipatros.
Behind the scenes
Sosipatros' Blade is a weapon in Assassin's Creed: Odyssey, which, as its name suggests, is in the possession of the minor character Sosipatros. While the sword shares the same model as that of the War Sword and the Forged Cleaver of the Isu which are recycled models of Dust-Biter from Assassin's Creed: Origins, Sosipatros himself wields a blade that's identical to the Epsilon Blade. As a result, the weapon that can be looted from his body and which bears his name appears to be different from the sword he actually uses.
Gallery
Appearances
References
↑ Assassin's Creed: Odyssey
Community content is available under
CC-BY-SA
unless otherwise noted.