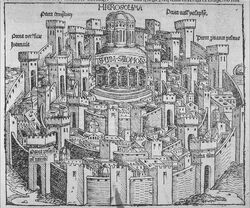 Solomon's Temple was the First Temple of the Jews, originally constructed by King Solomon on Mount Moriah in Jerusalem.[1] It was built on the remains of the Jerusalem Vault, an Isu temple.[2]
In 1191, Al Mualim sent Altaïr Ibn-La'Ahad, Kadar and Malik Al-Sayf to the vault beneath the temple to retrieve an important artifact held within a casing.[3]
The temple's architecture later served as an inspiration for the Sistine Chapel, built in Rome in the late 15th century.[4]
Appearances
References