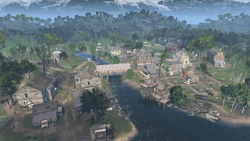 Sleepy Hollow is a small village in New York state, located on the east bank of the Hudson River.
History
The land initially housed native tribes, though they were driven out by the Dutch during the early 17th century, after which the area was settled and became known as "Slapershaven", literally "Sleepers' Haven". As part of the New Netherlands, the village and other Dutch settlements came under British control in 1664.[1]
By the mid-18th century, Sleepy Hollow had grown to become a modest settlement, divided in two by the Pocantico river that ran through it. The western area featured the Old Dutch Church of Sleepy Hollow and the market near the docks, where a harbormaster's station had been set up. The eastern area was more densely populated, boasting a general store and tavern, as well as a small plantation.[2]
In 1754, Benjamin Franklin intended to conduct an experiment involving the Precursor box on the edge of town, at the request of the Templar William Johnson, but the lightning rods that he needed had been confiscated by the British Army. The Assassins Hope Jensen and Shay Cormac offered to help, pretending to be associates of Johnson; Shay subsequently recovered the lightning rods, allowing the experiment to take place.[2]
The village would be incorporated as North Tarrytown in the 19th century. However, in 1996, the town decided to officially adopt the traditional name, partially due to the success of Washington Irving's short story, "The Legend of Sleepy Hollow", which had been published in 1820.[1]
Trivia
The English Percussion Flintlock Pistols could be found at Sleepy Hollow Church's cemetery after all tablet documents had been collected in the present-day.
The Headless Horseman character from Irving's story could be encountered at night near the church. He could only be defeated by shooting a particular pumpkin perched atop a gravestone in the cemetery, although a programming oversight allowed him to be hanged with a rope dart as well, despite having no neck.
Gallery
Appearances
References