This article is about Skylla the mythical monster. You may be looking for Skylla the ship.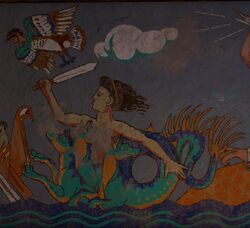 Skylla was a monstrous creature in  Greek mythology, said to haunt a narrow channel with Charybdis on the other side of it. She was depicted as a monster, with mouth full of sharp teeth, a spiked tail, and a waist whence sprouted canine heads.
Influence
During the 5th century BCE a region of Argolis on the Peloponnese was known as the Promontory of Skylla. Multiple buildings throughout Greece also bore murals depicting Skylla.[1]
When the Adrestia and her crew approached the Pirate Islands, specifically Keos, Herodotos joked about Barnabas' suggestion for carefulness with a comment about Charybdis and Skylla waiting at the bottom of the sea. Barnabas corrected that the reason for care were the pirates patrolling the seas around the islands.[1]
The pirate ship Shadowed Nymph bore Skylla's image as her figurehead[1], and Phila, a member and a magi of the Order of the Storm, commanded a trireme named after Skylla during the Peloponnesian War.[2]
Trivia
Gallery
Appearances
References
Community content is available under
CC-BY-SA
unless otherwise noted.