Arcane: League of Legends - The Loop
Play Sound
For skill trees in other Assassin's Creed games, see Skill tree.
Ezio, my friend! How may I be of service?


This article has a lot of room for expansion. Please improve it with additional information in accordance with the Manual of Style.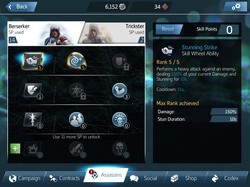 The skill tree is an in-game user interface that allows the player to upgrade the abilities of Lo Sparviero during the Renaissance. A total of 12 skills can be unlocked for each class type; Berserker, Shadowblade, Trickster, and Thief. A secondary class can also be selected increasing the skills an Assassin can have to 24. Advanced Skill Tiers can be unlocked with Skill Points or by spending Coins.[1]
Up to 6 skills can be equipped at any time accessible via the Skill Wheel during gameplay. Passive Abilities do not need to be equipped. Early Skills must be acquired first before any other Tier Skill can be. After a certain amount of Skill Points are earned the next Tier will unlock. All Skills have 5 levels of upgrades.[1]
Berserker
Skill
Description
Rank 1
Rank 2
Rank 3
Rank 4
Rank 5
Stunning Strike


Skill Wheel Ability

Performs a heavy attack against an enemy dealing ???% of your current Damage and Stunning for ??s.

Cooldown: 15s.

Damage: 100%


Stun Duration: 7s

Damage: 125%


Stun Duration: 8s

Damage: 150%


Stun Duration: 9s

Damage: 175%


Stun Duration: 10s

Damage: 200%


Stun Duration: 12s

Iron Will


Passive Ability

Increases the durationo of all Stun effects by ??%.
Stun Duration: 30%
Stun Duration: 40%
Stun Duration: 50%
Stun Duration: 60%
Stun Duration: 80%
Painkiller


Passive Ability

Grants ?% Bonus Armor
Armor Rating: 5%
Armor Rating: 10%
Armor Rating: 15%
Armor Rating: 20%
Armor Rating: 25%
Sunder


Skill Wheel Ability

A powerful strike, dealing ???% of your current Damage and shredding ??% of the enemy's armor for 30s.
Damage: 100%


Shredded Duration: 10s
Shredded Factor: 50%

Damage: 125%


Shredded Duration: 11s
Shredded Factor: 60%

Damage: 150%


Shredded Duration: 12s
Shredded Factor: 70%

Damage: 175%


Shredded Duration: 13s
Shredded Factor: 80%

Damage: 200%


Shredded Duration: 15s
Shredded Factor: 100%

Frenzy


Passive Ability

Gives a Precision bonus of ??% against enemies with shredded armor.
Precision bonus: 25%
Precision bonus: 35%
Precision bonus: 50%
Precision bonus: 70%
Precision bonus: 100%
Vigor


Passive Ability

Increases Strength permanently by ?%.
Strength: 5%
Strength: 10%
Strength: 15%
Strength: 20%
Strength: 25%
Surge of Fury
Skill Wheel Ability
A powerful multi-strike, hitting all enemies in a radius of ?m. Deals ??% of your current Damage to each and has a chance of ??% to knock them down for ?s.

Cooldown: 30s

Damage: 70%


Knockdown Duration: 5s
Knockdown Chance: 50%

Damage: 80%


Knockdown Duration: 6s
Knockdown Chance: 60%

Damage: 90%


Knockdown Duration: 7s
Knockdown Chance: 70%

Damage: 100%


Knockdown Duration: 8s
Knockdown Chance: 80%

Damage: 125%


Knockdown Duration: 10s
Knockdown Chance: 100%

Challenge


Passive Ability

Gives a ?% bonus to Precision when fighting against more than 2 opponents.
Precision: 5%
Precision: 10%
Precision: 15%
Precision: 20%
Precision: 25%
Intimidation


Passive Ability

Adds a Stun effect of ?s to Critical Hits.
Stun Duration: 1s
Stun Duration: 2s
Stun Duration: 3s
Stun Duration: 4s
Stun Duration: 5s
Splinter Bomb


Skill Wheel Ability

Throws a Splinter Bomb at target filled with deadly shrapnel, causing ??? Blasting Damage on impact and additional ??% of the initial Damage as Bleeding Damage over ??s. All enemies within a ?m radius of the target are dazed for ?s, slowing their attacks down, and more likely to flee from combat.

Cooldown: 30s.

Blasting Damage: 120


Bleeding Damage: 25%

Blasting Damage: 155


Bleeding Damage: 30%

Blasting Damage: 200


Bleeding Damage: 35%

Blasting Damage: 285


Bleeding Damage: 40%

Blasting Damage: 500


Bleeding Damage: 50%

Bloody Perseverance


Passive Ability

Increases the duration of Bleeding effects by ?s.
Bleed Duration: 5s
Bleed Duration: 6s
Bleed Duration: 7s
Bleed Duration: 8s
Bleed Duration: 10s
Reassurance


Passive Ability

Grants a ??% chance of receiving an extra Kill Token whenever an enemy flees. Has no effect if the Kill Token Bar is already full.
Kill Token Chance: 50%
Kill Token Chance: 60%
Kill Token Chance: 70%
Kill Token Chance: 80%
Kill Token Chance: 100%
Shadowblade
Skill
Description
Rank 1
Rank 2
Rank 3
Rank 4
Rank 5
Silent Dagger


Active Skill

TBA
TBA
TBA
TBA
TBA
TBA
Breath Taker


Passive Skill

TBA
TBA
TBA
TBA
TBA
TBA
In the Shadows


Passive Skill

TBA
TBA
TBA
TBA
TBA
TBA
Fan of Knives


Active Skill

TBA
TBA
TBA
TBA
TBA
TBA
Blinding Metal


Passive Skill

TBA
TBA
TBA
TBA
TBA
TBA
Traceless


Passive Skill

TBA
TBA
TBA
TBA
TBA
TBA
Piercing Strike


Active Skill

TBA
TBA
TBA
TBA
TBA
TBA
Piercing Surprise


Passive Skill

TBA
TBA
TBA
TBA
TBA
TBA
Unfair Advantage


Passive Skill

TBA
TBA
TBA
TBA
TBA
TBA
Smoke Bomb


Active Skill

TBA
Stun: 5s
Stun: 6s
Stun: 7s
Stun: 8s
Stun: 10s
Shadow Dancer


Passive Skill

TBA
TBA
TBA
TBA
TBA
TBA
Heartseeker


Passive Skill

TBA
TBA
TBA
TBA
TBA
TBA
Trickster
Skill
Description
Rank 1
Rank 2
Rank 3
Rank 4
Rank 5
Distraction


Active Skill

TBA
TBA
TBA
TBA
TBA
TBA
Sweet Music


Passive Skill

TBA
TBA
TBA
TBA
TBA
TBA
Weasel


Passive Skill

TBA
TBA
TBA
TBA
TBA
TBA
Sticky Bomb


Active Skill

TBA
TBA
TBA
TBA
TBA
TBA
Powder Monkey


Passive Skill

TBA
TBA
TBA
TBA
TBA
TBA
Camouflage


Passive Skill

TBA
TBA
TBA
TBA
TBA
TBA
Disguise


Active Skill

TBA
TBA
TBA
TBA
TBA
TBA
Carnival


Passive Skill

TBA
TBA
TBA
TBA
TBA
TBA
Glitch


Passive Skill

TBA
TBA
TBA
TBA
TBA
TBA
Jack in the Box


Active Skill

TBA
TBA
TBA
TBA
TBA
TBA
Cripple


Passive Skill

TBA
TBA
TBA
TBA
TBA
TBA
Hasty


Passive Skill

TBA
TBA
TBA
TBA
TBA
TBA
Thief
Skill
Description
Rank 1
Rank 2
Rank 3
Rank 4
Rank 5
Pickpocketing


Active Skill

TBA
TBA
TBA
TBA
TBA
TBA
All the Pockets


Passive Skill

TBA
TBA
TBA
TBA
TBA
TBA
Sixth Sense


Passive Skill

TBA
TBA
TBA
TBA
TBA
TBA
Throw Sand


Active Skill

TBA
TBA
TBA
TBA
TBA
TBA
Bloody Shards


Passive Skill

TBA
TBA
TBA
TBA
TBA
TBA
Cat-like


Passive Skill

TBA
TBA
TBA
TBA
TBA
TBA
Fast Fingers


Active Skill

TBA
TBA
TBA
TBA
TBA
TBA
Flurry


Passive Skill

TBA
TBA
TBA
TBA
TBA
TBA
Double Identity


Passive Skill

TBA
TBA
TBA
TBA
TBA
TBA
Tripwire Bomb


Active Skill

TBA
TBA
TBA
TBA
TBA
TBA
Choking Powder


Passive Skill

TBA
TBA
TBA
TBA
TBA
TBA
Greed


Passive Skill

TBA
TBA
TBA
TBA
TBA
TBA
References