GTA: The Criminal Enterprises - The Loop
Play Sound
Skal! was a virtual representation of one of Eivor Varinsdottir's genetic memories, relived by Layla Hassan in 2020 through the Portable Animus HR-8.5.
Description
The raiders celebrate the victorious siege of Paris.
Dialogue
Eivor went to Toka Sinricsdottir, who was calling out to her.
Toka: Eivor! Come here! Have you ever seen something like this?
Eivor talked with Toka.
Eivor: What is this? Racing against pigs?
Toka: Yes! What is more amusing than watching drunken men race against pigs?
Eivor: We have done worse things to entertain ourselves.
Toka: Would you like to try, Eivor? There is a small prize for the winner. Or... are you not fast enough?
Eivor and Toka raced against the pig.
Eivor finished the race.
Eivor:
No matter the winner, the joy was in the doing.
Toka:
Indeed! And we sure sliced open Francia's belly this time, eh? Now to feast on her entrails!
Eivor:
The winnings are worthy of a serpent's lair.
Toka:
And the roads glistened from the dew of slaughter!
Eivor:
Yes. Though, one wonders if such butchery was needed.
Eivor:
No lessons today, Eivor. I doubt I will remember them.
Eivor:
You are hopeless.
Toka:
That is clear. I took a handsome sword amid the fighting. Have it. A keepsake to remember this day by.
Eivor:
You honor me. I will cherish the blade.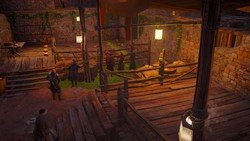 Eivor left Toka as she received the Ring-sword. Eivor later met with Pierre.
Pierre: Ah, Eivor. Here is something even you have never done. Tossing food for sport.
Eivor talked with Pierre.
Eivor: Cheese throwing?
Pierre: The most pungent game of them all. Nastier than Charles himself.
Eivor: You... enjoy this?
Pierre: I prefer to eat the cheese, but who am I to question the games of the people. So, want to toss some cheese?
Eivor played the cheese toss game.
Eivor continued playing the game.
Eivor:
You expected a different outcome?
Pierre:
I thought you best for rallying a siege and swinging a sharp stick. Was not sure how you would toss some cheese.
Eivor:
There is much about me you don't know, Pierre.
Pierre:
O? Pray tell, what else should I know?
Eivor left Pierre.
Eivor: Something was amiss with Sigfred earlier. A little ale may have lifted his spirits by now.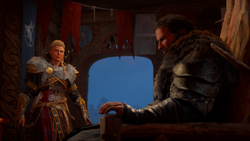 Eivor went back to the longhouse and talked with Sigfred, skulking at his chair. Sigfred took notice of Eivor's presence and talked with her.
Sigfred: Eivor the Talker.
Eivor: Quite a trove of riches, Sigfred.
Sigfred: What were you doing with Count Odo as Charles' army marched on me and my men?
Eivor: I was trying to gain his surrender. What of it?
Sigfred: Is it not strange that you met with Odo, Richardis, even Charles himself, and yet all three still walk around with their heads?
Eivor: Everything I have done has been for my clan.
Sigfred looked at Eivor and pondered.
Sigfred: It is curious that we must drench our blades in battle-sweat to enjoy a night like this.
Sigfred:
Hmph. The Frankish blood... the feasting... I still feel nothing. I find no peace in any of it.
Eivor: You avenged your murdered people. You gained glory in their names.
Sigfred: Is that why I did what I did? Vengeance and glory? I wonder anymore why any of us do the things we do. Is it Valhalla? Is it clan? Or maybe we grant ourselves reasons to go from one mead cup to the next. Maybe there are no reasons, and we are no different than wolves, driven by some inner hunger we can never understand.
Eivor: That may be, but for the sake of our peoples we must continue to act otherwise.
Sigfred: No. I do not believe there is a hall waiting for us. This world is our hall. We get but one. I shall not pretend. Francia's cup overflows with lush farmland, fat farmers, and fatter purses. All the more for us to drink. Tomorrow, we quit this place and head south for greater bounties than even a king can grant.
Eivor: We gave Charles our word.
Sigfred added more if Eivor did not give Bernard away.
Sigfred: Our word? You are the one who failed to return his son Bernard. Have you forgotten?
Eivor: That was different. Charles would have—
Sigfred smashed his fist on a table.
Sigfred: Fuck Charles! We spared Paris today, but tomorrow we march for Burgundy. And after that, all of Francia.
Eivor: I cannot let you do it, Sigfred.
Sigfred threw his cup onto the floor, startling his men.
Sigfred left as his people saw the awkward outburst.
Eivor: I need to go after him.
Eivor followed his trail and found Sigfred at the Burial Mounds. Eivor went and talked with Sigfred, who held an axe near Sinric's grave.
Sigfred: Will it be a holmgang then, Wolf-Kissed?
Eivor: I only ask that you honor your agreement.
Sigfred: What does a crow-starver like Charles know about honor? I owe him nothing.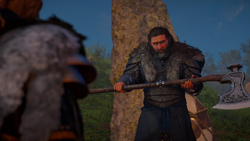 Sigfred looked at Sinric's grave and then back at Eivor.
Sigfred: And he owes me everything.
Eivor: No amount of Frankish blood will bring Sinric or the others back. Some wrongs can never be made right.
Sigfred: All this talk of right and wrong. Honor. As if we can judge. It has no meaning. Can we explain all the blood on our hands, Eivor? Or are we two jesters on this Frankish stage, awaiting our final performance? Draw your weapon.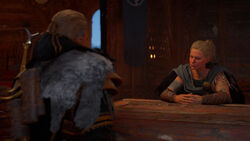 Toka: When his strong voice echoed in this place, we knew what to do. We had courage... daring...
Eivor stood up and poured herself and Toka a drink.
Eivor: And his fire still burns in your folk. Skal!
Toka: Skal.
Eivor sat back down.
Toka: I lack a taste for mulled wine.
Eivor: Sometimes a leader must drink the thing they wish not to.
Pierre walked into the hall.
Pierre: I have word from Count Odo.
Eivor: What does he want?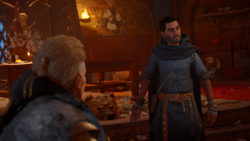 Pierre: An audience with Eivor, it is urgent. He says the queen may be in peril. My spies confirmed this. Charles has been hunting again for her and the boy.
Toka: What do you think?
Eivor: Odo would not lie. If he says it's urgent, I must go. I owe the queen a debt and I am honor bound to see this through.
Toka: Then go. You have fortune's favor, Wolf-Kissed.
Eivor nodded and left.
Outcome
Toka became leader of her clan and Eivor left to meet with Odo to learn of the peril Richardis was in.
Gallery
References
Assassin's Creed: Valhalla memories