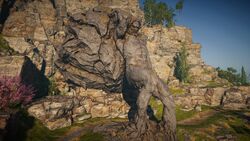 Sisyphos was the mythical founder of the Greek polis Korinth and the Isthmian Games in Greek mythology.
History
He found the corpse of Melikertes on the shore, buried him and established the Ishtmian Games in his honor, as well as a cult.[1]
According to legend, after angering Zeus, the god ordered Thanatos[2] to seize Sisyphos. The mortal fooled Death, however, and as punishment for this, Sisyphos was condemned to push a boulder to the top of a hill for eternity. After his death, he was said to buried in a cave below the hill. Centuries later, a monument depicting his punishment stood outside the cave.[3]
Behind the scenes
The Eagle Bearer's comment at the Grave of Sisyphos in Assassin's Creed: Odyssey, "Ah, Sisyphos. You should have left Thanatos to it", references how in the myths Sisyphos tried to fool Thanatos.[4]
In Greek mythology, Sisyphos was the brother of Salmoneus.
Gallery
Appearances
References
↑ Assassin's Creed: Odyssey
↑ Assassin's Creed: Odyssey – Korinthia: Grave of Sisyphos
↑ Sisyphus cheating death on Wikipedia
Community content is available under
CC-BY-SA
unless otherwise noted.