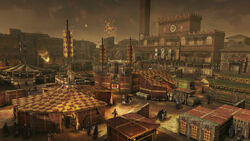 Siena is a city in Tuscany, Italy, and the capital of the province which shares the same name.
In 2012, Abstergo Industries used Siena as a virtual training map during the during the first and second stage of their Animi Training Program, being introduced to the latter via a system update.
The simulation depicted the Piazza del Campo, one of Siena's most recognizable plazas, featuring notable landmarks such as the Palazzo Pubblico and its Torre del Mangia. The Palio di Siena, a traditional medieval horse race that occurred twice a year, was apparently on-going, as horses could occasionally be seen running past. The area had a festive, busy air, with many colorful lanterns and flags strung up as visitors watched the Sienese performers. A slightly more relaxing sight was the Fonte Gaia, a medium-sized fountain that was located at the edge of the plaza.
Siena was not programmed to have aesthetic variations. As a result, it could only be used during the late evening.
Trivia
Gallery
References
Community content is available under
CC-BY-SA
unless otherwise noted.