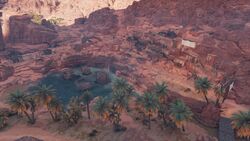 Shur Quarry was an abandoned quarry situated in Madiama Nome of Sinai, Egypt.
History
During the 1st century BCE, the quarry was under the supervision of Tacito, a Roman legate and a member of the Order of the Ancients. At some point, the quarry became half flooded, disrupting production. As such, Tacito abandoned the quarry and moved his operations north to the quarry in Klysma Nome.[1]
In 38 BCE, the Hidden One Bayek of Siwa confronted Gamilat in the quarry, after learning of the rebel leader's act of provoking the Romans to recruit martyrs to his cause. Bayek and Gamilat clashed in battle, resulting in the latter's defeat and death. Before dying, Gamilat and admitted to his mistakes and expressed his wish for Bayek's order to last till the end of time, passing on peacefully.[2]
Bayek also discovered one of the Papyrus Puzzles within the quarry.[3]
Appearances
References
Community content is available under
CC-BY-SA
unless otherwise noted.