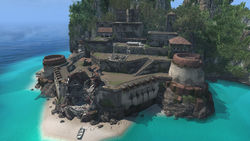 Serranilla was one of the forts in the Caribbean, during the early 18th century, that protected the important trade routes and was under the control of the Royal Navy.
At some point, the pirate Edward Kenway attacked the fort, using his warship Jackdaw to destroy its defenses, before his crew invaded the fort on foot. Edward managed to kill the fort's ranking officers and commander, after which the fort fell under his control.
After its liberation, the fort included a harbormaster's station where Edward could sell his goods, restock his ammunition, and repair the Jackdaw. Additionally, after completing all the naval contracts for the Dutch trader Milo van der Graaff available at other forts, a final mission would become available at Serranilla's docks.
References
Community content is available under
CC-BY-SA
unless otherwise noted.