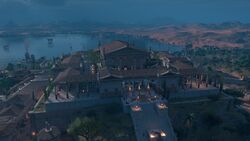 The Serapeum of Alexandria was an ancient Greek temple located in Alexandria, Egypt dedicated to Serapis, the patron god of the city.
Considered to be the most beautiful place of Alexandria, it was located southwest of the city on a small hill known as the Acropolis. Its foundations were created during the reign of Ptolemy I Soter and the temple was finished during the reign of Ptolemy III.[1]
History
In 48 BCE, the Medjay Bayek of Siwa visited the temple and prayed to Serapis for help on his journey. He was approached by a local priest, Lysander, who asked him to rescue a drummer who was accused by the tanner Theon of stealing a Nubian lion skin from the dye vats. The Medjay agreed to solve the situation.[2]
A year later, the main entrance of the temple was where Cleopatra was crowned sole pharaoh of Egypt after the death and defeat of her brother Ptolemy XIII at the Battle of the Nile.[3]
Trivia
Gallery
Appearances
References
Community content is available under
CC-BY-SA
unless otherwise noted.