Template:WPmemories
Seeing Red
is a memory in
Assassin's Creed: Brotherhood
.
Cesare Borgia has lost his control over the city of Rome and waits for Micheletto to bring his remaining troops back from the battle.
Dialogue
Ezio Auditore meets Claudia at the Rosa in Fiore.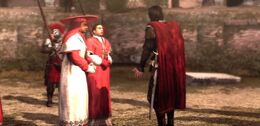 Ezio follows the cardinal through the countryside of Rome, and reaches the meeting at the Colosseum.
The Cardinals and Cesare spot Ezio.
Outcome
Cesare leaves the city, and Ezio and his recruits kill all of Cesare's men at the Colosseum.
Trivia