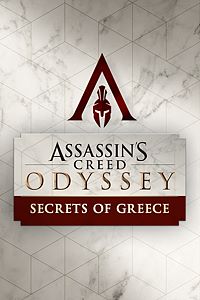 Secrets of Greece is a single-player downloadable content addition for Assassin's Creed: Odyssey and was released on 5 Oct 2018 for Season Pass holders. The content consists of two missions in which Kassandra aids the philosopher Demokritos in developing his theory about the universe.
The Secrets of Greece memories can be accessed from Level 1 but a Level of 18 is recommended.
Description
Demokritos, the "laughing philosopher", fumbled his way into learning the whereabouts of three theorems. Combined, they'd unlock some great mystery, but first they'd need to be retrieved.
Memories
Reference