He who increaseth knowledge, increaseth sorrow.


This article contains spoilers, meaning it has information and facts concerning recent or upcoming releases from the Assassin's Creed series. If you do not want to know about these events, it is recommended to read on with caution, or not at all.

This template should be removed from the article 13 November 2021.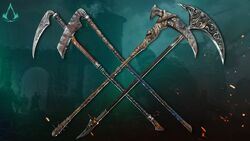 The Scythe is a type of a farming tool with a long handle and a single sharp blade, which can also be used as a weapon.
History
During the Human-Isu War, the Isu Saturn wielded a scythe.[1]
Commonly used throughout human history in agriculture, various scythes were also available for use in the 5th century BCE Greece,[2] and centuries later during the Vikings' siege of Paris in 885 CE.[3]
Weapon statistics
Peloponnesian War (5th century BCE)
Name
Rarity
DPS (Max Lvl 99)
Attributes
Availability
Ceremonial Scythe
Common
7113
(Randomised)
Blacksmith, Loot
Rare
7469
Epic
7829
Gilded Scythe
Common
7113
(Randomised)
Blacksmith, Loot
Rare
7469
Epic
7829
Griffin's Scythe
Legendary
8257
+25% Hunter Damage
+30% Adrenaline per Hit
+20% Damage with Spread Shot Ability
Defeat the mercenary with the epithet "The Patricidal"
Harvest Scythe
Rare
7469
(Randomized)
Blacksmith, loot
Epic
7829
Scythe
Rare
7469
(Randomized)
Blacksmith, loot
Epic
7829
War Scythe
Rare
7469
(Randomized)
Blacksmith, loot
Epic
7829
Carolingian Francia (9th century)
Appearances
References