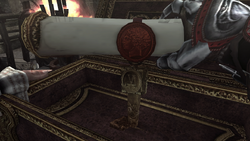 The Scrolls of Romulus were six ancient scrolls enshrined in six different underground lairs of Romulus located throughout Rome, Italy. Each scroll was attached to one of six keys, which, when combined, ultimately unlocked the chamber containing both the armor and the dagger which had belonged to Brutus.
The scrolls were the remnants of a journal written by the Roman Hidden One Marcus Junius Brutus. They described how Brutus discovered the Colosseum Vault and used it as a staging ground in the plot to kill the tyrannical dictator Gaius Julius Caesar, an ally of the Order of the Ancients.[1][2]
Around 1503, the Italian Assassin Ezio Auditore da Firenze recovered each of the scrolls and used them to discern the location of the Colosseum Vault.[1]
Scrolls
Gallery
Behind the scenes
In the Scrolls of Romulus, a collection of documents in Assassin's Creed: Brotherhood, the word used of the ancient Roman Assassin conspirators is Liberatore, even though said term is actually Italian, not Latin. The correct Latin form is Līberātor.
Appearances
References
Community content is available under
CC-BY-SA
unless otherwise noted.