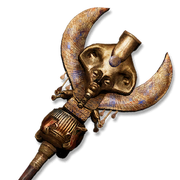 The Scepter of Amun was a scepter which originated from Siwa. It was rumored that when Alexander the Great conquered Egypt and visited Siwa in 332 BCE, the Oracle of Amun presented the scepter to him as a gift, proclaiming him as the son of the deity Amun.
After Alexander's death, the scepter, along with a shield, was kept in a temple in the Isolated Desert. Around 47 BCE, the Medjay Bayek of Siwa acquired the scepter while rescuing Hetanu, a young boy from Remetch Ra.[1]
Weapon Statistics
Rarity
Quality (Max Level 40)
Damage (Max Level 40)
Attributes
Availability
Rare
??
??
Combo Multiplier II
Critical Hit Damage II
Loot the chest in Alexander's Temple
Appearances
References
Community content is available under
CC-BY-SA
unless otherwise noted.