"A Greek god where an Egyptian god once stood."
―Medjay Bayek of Siwa, 48 BCE.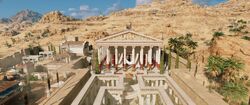 The Sarapeion of Karanis, also referred to as the Karanis Temple, was a Greco-Egyptian temple to Serapis located in Karanis, Faiyum, during the 1st century BCE.
History
Originally an Egyptian temple, it was built over and redecorated to suit the worship of Greco-Egyptian amalgamation god, Serapis, over several years up to 48 BCE, and the work continued, despite multiple setbacks.[1]
In 48 BCE the Medjay Bayek of Siwa visited the temple. A gruesome murder scene caught his attention, and he helped the local Phylakitai, Epigonos, to solve a series of acts of vandalism and murders of Greek priests in the temple. As Bayek found out, a cult of Wadjet was the culprit. However, Bayek was able to prevent them from assassinating the High Priest of the temple.[2]
Following the end of the cult, the defaced statue of Serapis was cleaned up, and all traces of the cult's deeds, save for a bit of green paint, were removed.[1]
Around the same time, Bayek found one of the Papyrus Puzzles within the temple.[3]
References
Community content is available under
CC-BY-SA
unless otherwise noted.