"Tonight I am to escort Santino, Madonna Solari's brother. I will take one of his arms and Lucia the other. He is a dangerous man. A swindler."
―Fiora Cavazza describing Santino.
Santino Solari was the brother of Madonna Solari, the Madame of the Rosa in Fiore brothel in Rome.
Biography
Slave trading
"I am left with only the slightest comprehension of Santino's business, which appears to be crumbling. His anger betrays his fear. His mistakes have made him enemies."
―Fiora observing Santino's trade.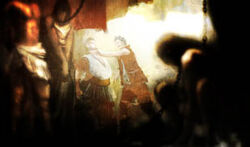 One night in 1497, escorted by two courtesans from his sister's brothel, Santino went to various houses to attend to business with several of his contacts. Often resorting to violence, he delivered payments and bribes, as well as gathered information on slave trading and shipping routes.[1]
Once, when asked by Fiora Cavazza about his business, he slapped her, and slapped Lucia when she tried to defend her in turn. He forced the courtesans to remain silent on the matter, threatening them with a dagger, despite them having learned so little from his escapade. Afterwards, he told the courtesans that he would tell his sister of their cooperation, then left.[1]
Later that same year, Santino was beaten by Cesare Borgia for interfering in trades that he and his sister had no right to. In exchange for their lives, Madonna Solari and Santino allowed Cesare to pick one of their courtesans to work for him.[1]
Ownership of the Rosa in Fiore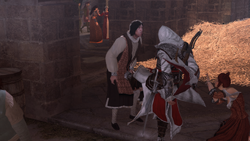 After Santino's sister was kidnapped and killed by slave traders in 1500, Maria Auditore da Firenze and her daughter Claudia took over the Rosa in Fiore.[2]
Angered by this, Santino campaigned for ownership, and appealed to the Borgia, claiming that both the brothel and its courtesans belonged to him. However, sometime in 1500, one of the courtesans at the brothel alerted Ezio Auditore da Firenze – Claudia's brother and a member of the Assassin Order – to Santino's actions.[3]
Ezio tracked down Santino and promptly intervened when he discovered him threatening a courtesan. After a brief fist fight, Ezio knocked Santino out and dumped him next to a fountain by the Pantheon, publicly humiliating him by calling him a liar and a cheat. Stripped of his dignity, Santino failed to reclaim the brothel.[3]
Trivia
Rather ironically, Santino is an Italian name meaning 'little saint'. His surname, Solari, is a family name derived from Latin word solarium, literally 'a place in the sun'.
Appearances
References
Community content is available under
CC-BY-SA
unless otherwise noted.