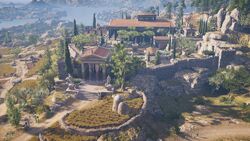 The Sanctuary of Eleusis is a town and municipality in the western region of Attika, Greece.
History
Mythology
According to myth, the sanctuary became the center of the cult of the Greek goddesses Demeter and Persephone after the former met the daughters of King Keleos at the Anthion Flowery Well in Eleusis.[1] Provided shelter at the king's palace, Demeter taught the king and his family the art of agriculture, as well as initiated them into her cult. In return, people built the Telesterion to honour her.[2]
Among the most notable visitors, according to the story, was the hero-god Herakles, who sought out the sanctuary and participated in the Mysteries as preparation for his journey to Tainaros and the Underworld to fetch Cerberos, as his twelfth task demanded.[3]
5th century BCE
During the Peloponnesian War, the sanctuary was visited by the Spartan misthios Kassandra.[4]
Use
The town served as the site of important religious festivities, chief among them the Eleusinian Mysteries performed within the Telesterion.[5]
The Sacred Way connected the Sanctuary of Eleusis with Athens' acropolis. On Athens' end, the road was watched over by a statue featuring the goddess Demeter and her daughter Kore, and ended at the gates of Propylea.[6]
Appearances
References
Community content is available under
CC-BY-SA
unless otherwise noted.