"Part sanctuary, part treasury. I wonder if the Delians left any silver behind?"
―Kassandra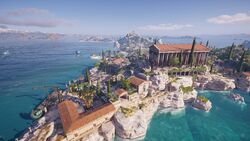 Sanctuary of Apollo was the main settlement within the region the Birthplace of Apollo on the island of Delos, Greece.
Considered sacred, shrines and temples to various deities were built in and around the town, but the grandest of them was dedicated to the Greek god Apollo. Another was the Hestiatorion.[1] Being sacred also made the town a favorite location for pilgrimages, festivals, and games.[2]
History
During the Peloponnesian War, the Sanctuary served as the headquarters to the Delian League, as well as its treasury until Perikles decreed the silver transferred to Athens.[2]
During the war the Spartan misthios Kassandra explored the city.[1] Barnabas and a smuggler named Iola[3] also visited the city around the same time, and met each other.[4]
Appearances
References
Community content is available under
CC-BY-SA
unless otherwise noted.