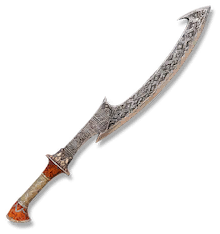 The Sanaa Khopesh was a khopesh passed down to the Medjay Bayek by his father, Sabu.
Description
As a khopesh, a type of Egyptian sickle-sword, the Sanaa Khopesh bore a blade that lunged forward into a crescent arc. In this case, the blade was uniquely engraved along both sides of the crescent while the hilt itself was painted scarlet at the top and bottom ends. The sword was actually identical in profile to The Fang, a far deadlier khopesh; the shape of both blades had the exact compact design with the arc more moderate and tucked together and hooked protrusions on either end.[1]
History
In the 1st century BCE, the Medjay Sabu wielded the Sanaa Khopesh in his role as the protector of Siwa. At one point, he rescued a caravan lost in a desert with the sword. Upon his death, he passed it onto his son Bayek who inherited his Medjay duties as well.[1]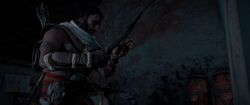 In 48 BCE, during his hunt for the nomarch Rudjek, a member of the Order of the Ancients, Bayek left behind the Sanaa Khopesh in a chest at his home. Instead, he relied upon an inferior sword commonly used by Philistine mercenaries to kill the nomarch and his bodyguard Hypatos. Only when he returned to Siwa after at least a year abroad did he recover the Sanaa Khopesh from his chest.[1]
Weapon Statistics
Rarity
Quality (Max Level 55)
Damage (Max Level 55)
Attributes
Availability
Common
115
522
Bleeding on Hit II
Obtained from Bayek's Home
Description
This sword was given to Bayek by his father at the age of 13 after saving a caravan lost in the desert.
Trivia
Appearances
References
Community content is available under
CC-BY-SA
unless otherwise noted.