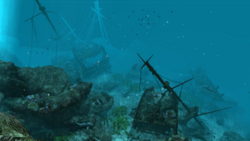 The San Ignacio was a Spanish treasure ship that sank with the rest of the Spanish Treasure Fleet in 1715, off the coast of Havana.
After escaping the fleet's destruction with his quartermaster, Adéwalé, the pirate Edward Kenway returned to the site of the San Ignacio wreck in 1718, seeking medicine for the Pirate Republic in Nassau. While the ship had been carrying samples which had remained untouched in the wreckage, they had deteriorated extensively over the course of three years and were unusable by the time of their recovery.
References
Community content is available under
CC-BY-SA
unless otherwise noted.