You cannot know anything. Only suspect.


This article contains content from pre-release sources that may or may not be reflective of canon upon release. This article therefore likely contains spoilers.
Where are the paintings?


This article is in need of more images and/or better quality pictures in order to achieve a higher status. You can help the Assassin's Creed Wiki by uploading better images on this page.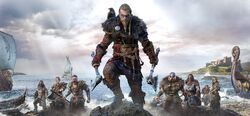 Sýnin was a raven that accompanied the Viking Eivor during the Viking expansion in the 9th century.[1]
Behind the scenes
Sýnin first appeared in Assassin's Creed: Valhalla's reveal livestream, flying over Eivor's shoulder.[2] Its name was first revealed in an interview with USGamer and is set to appear in-game as a companiion and extension of the Eagle Vision mechanic introduced in Assassin's Creed: Origins.[1]
Etymology
Sýnin is the definitive form of the Old Norse word sýn, meaning 'sight, vision'.
The name is intended by the developers to mean "insight" and be pronounced "Sue-nin" (/'suːnɪn/)[3]. Despite this, the name would be more closely pronounced as "Sye-neen" (/'sy.nin/) in Old Norse.
Gallery
Appearances
References
↑ 1.0 1.1 Williams, Mike (13 May 2020). Assassin's Creed Valhalla Goes Big on Stealth With One-Hit Kills, Social Stealth, and Feigning Death. USGamer. Retrieved on May 13, 2020.
↑ Assassin's Creed Valhalla: Official Tease with BossLogic | Ubisoft [NA] on the Ubisoft North America YouTube channel
↑ Ashraf Ismail (@AshrafAIsmail) on Twitter "It's spelled Synin
And
Pronounced "Sue-nin"

We wanted as close a meaning to "insight" in Old Norse
🧐"
Community content is available under
CC-BY-SA
unless otherwise noted.