Rude Awakening was a virtual representation of one of Eivor Varinsdottir's genetic memories, relived by Layla Hassan through the Portable Animus HR-8.5.
Description
Eivor and her brother Sigurd launched a raid on one of Kjotve's camp.
Dialogue
Following her brief training with the Hidden Blade, Eivor went to sleep and dreamed about the prophecies told by Valka.
Valka: The Nornir have spoken...You will betray Sigurd.
Eivor: No, this is wrong. That cannot be right!
Sigurd: (scream)
Valka: You will betray Sigurd.
Eivor woke up, having been disturbed by a sound outside her hamlet. She went outside, finding one of Kjotve's spies running off.
Eivor chased after the spy and killed him before he could escape.
Eivor: This one would not have come alone. I should find the others.
Eivor proceeded up the hill and found the spy's camp along with two of his associates.
Norse Warrior 1: I have a feeling...just the three of us...we should return to

Nottfall

with our report. While we can.
Norse Warrior 2: We can bring Kjotve news of the longships, or we can wake him with Sigurd Styrbjornsson's head. Which is better?
Norse Warrior 1: All right! When Ljot returns, we weigh our next move. But I am not one for sticking around, hear me?
Norse Warrior 2: Quit bawling, you babe. They may be drunk, but they're not deaf.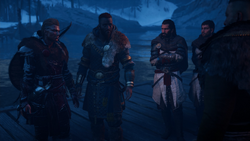 Eivor killed the remaining spies
Eivor: Sigurd must know about this.
Eivor returned to Fornburg. She arrived at the harbor and found Sigurd arguing with their father, Styrbjorn.
Sigurd: With each day we wait, Kjotve grows stronger.
Styrbjorn: I speak as your king, Sigurd. Not your father. Heed my warnings or be off!
Sigurd: You will be king of nothing if you do not act soon.
Styrbjorn: We do not have the men to storm

Kjotve's fortress

. The losses would ruin us!
Sigurd: The losses have ruined us, Father! Until we cut off this serpent's head, it will poison us, day by day, drop by drop!
Eivor approached them, looking like she'd been in a fight. (This remains the same whether or not Eivor assassinated the spies without fighting them.)
Eivor: The poison has already polluted our waters.
Styrbjorn: Gods, Eivor, what happened?
Eivor: Spies in our camp. Three men, sent by Kjotve to kill us as we slept.
She wiped blood from her face and spat.
Eivor: I returned the favor.
Sigurd: There, you see? This is what waiting brings. We must answer this insult!
Eivor: They came from Nottfall, that whaling village under Kjotve's control.
Sigurd: We hit him there. Burn it down, before Kjotve learns his spies are dead.
Eivor: He may have sent more. I can search the village while you round up the crew.
Basim looked to Hytham, who nodded in agreement.
Basim: You can rely on him while we are away.
Eivor: We? Do you mean to you join us?
Basim quickly conferred with Hytham, holding up a hand to block the conversation from others. Hytham nodded and left.
Basim: I have not been bred for Valhalla like you, but this will be far from my first battle.
Styrbjorn: I do not like this, but I will not stop you.
Sigurd stepped up to his father, glaring for a moment before walking away. Basim followed Sigurd to Eivor's longship as Styrbjorn approached Eivor.
Styrbjorn: Do not lead my son into the same storm that follows you.
As Styrbjorn left, Eivor followed Sigurd to the longship and they sailed to Nottfall.
Sigurd: Warriors! Drengir! When I was away, far from these frozen shores, wondering if I should ever see home again, I grew afraid. Afraid I would not return in time to see Kjotve's end! Afraid I would not see him bleed out like a stuck pig in a drift of snow! But here I am, home in time to join those I have missed, those I love, in this glorious fight! Today we seize Notfall from Kjotve! Tonight his heart will pulse with worry, tomorrow it will burst from fear! He will beseech the gods for aid, but they will be deaf to his cries. And soon the Raven Clan will feast on his dead! You know these isles best, Wolf-Kissed. Lead us to victory.
Eivor: I will show the way, but you must lead us there.
Sigurd: O, Eivor, I missed having you at my side. How I wished I could have taken you along on my travels.
Eivor: Styrbjorn did not trust fate with both of our lives.
Sigurd: He had no reason to fear. Together we are unstoppable.
Eivor and companions arrive at Notfall and began the raid.
Eivor: Get ready!
Sigurd: The Ravens claim Notfall for Odin!
Eivor: Raze this place! Burn and pillage! And let all who pledge to Kjotve feel the frost of our steel!
Sigurd: Let the flames have them! Supply Wagons. We should destroy them.
Basim: Watch your backs!
Sigurd: Eivor, destroy those wagons.
Basim: Notfall lies in ruin! Let the blood and ash be a warning
Ships approached the port of Notfall with a group of Norsemen alighting.
Guthorm the Wise: Hail, Raven Clan! You reap a bloody harvest!
Sigurd: Who are you, gestr (stranger). Name yourself.
Eivor: I know his face. He met with you father not long ago.
Guthorm the Wise: I did indeed. I am Guthorm, uncle to King Harald of the North. I speak for my nephew when there is need.
Sigurd: This is not King Harald's land. Why does he send warriors so far south?
Guthorm the Wise: You may ask him yourself. My lord?
King Harald stood forward.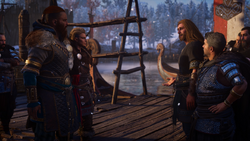 King Harald: Thank you, Uncle. You are Sigurd of the Raven Clan, is that right? Son of the wise King Styrbjorn?
Sigurd: I am. And you are standing on his land, King Harald. Land we have reclaimed with blood and steel.
King Harald: That I see, and I honor it. For I have not come to war against you, but for you. At the request of your father.
Eivor: The canny wolf. Was this the plan he spoke of?
King Harald: I offer my support. With my warriors, your Raven Clan can take Kjotve's fortress and settle this rivalry for good.
Sigurd: This is good news, Eivor. The wandering king will tip our fortunes.
Eivor: Any man who wishes to see the end of Kjotve is a friend of mine. We thank you, King Harald
King Harald: Your trust in me will be repaid.
Eivor:
It is a shame, great king, that you came all this way to offer aid that we do not need.
Sigurd:
I must strongly disagree, Eivor. This is a gift from the gods.
Eivor:
That may come with a price.
King Harald:
Worry not . The balance has been paid. This victory shall be yours to savor.
Eivor:
Why risk your men to help us, king? Have you a stake in this fight?
King Harald:
This war between Kjotve's clan and your own has long simmered on my southern border. I wish to see it put to rest. There will be no peace while Kjotve lives. But there is much agreement between your father and me.
Sigurd:
This blood feud runs deep, King Harald. We welcome your help, but I must lead the charge.
King Harald:
I see. Is this a question of honor?
Eivor:
It is. Many winters ago, Kjotve broke an oath to our fathers. He betrayed a friendly peace and slaughtered many...
King Harald:
I understand. Sigurd
Jarl
will lead the assault against Kjotve and his clan. Give him full command of my ships and my warriors. When your victory is in hand, Sigurd, find me in Alrekstad and we will celebrate together.
Guthorm the Wise:
Our men will gather at Florli, near the mouth of the fjord northeast of here. Will you join us?
Sigurd:
Hold a moment.
You captain our longship, Eivor. Meet us there and we will claim Kjotve's head for the gods.
Eivor:
Brother, I have waited too many years for this day. When Kjotve stands before us, give me the final blow.
Sigurd:
You will have it Eivor. You deserve it.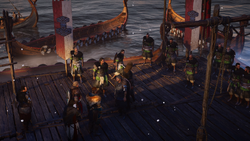 Everyone began to disperse. Behind Sigurd, Eivor found Basim watching her, before he, too, left.
Dag: Eivor, give us a hand! Harald is generous with his troops. More than I would be
Eivor: I cannot fathom his game. He is either a young fool... or deceptively wise.
Dag: Whatever his reason, I have a good feeling this war is near its end.
Outcome
Eivor, Sigurd and their clan raided Kjotve's camp in Nottfall. Following the raid, they allied with King Harald's uncle Guthorm to confront Kjotve at his stronghold.
Gallery
References