Arcane: League of Legends - The Loop
Play Sound
Room At The Inn was a virtual representation of one of Ratonhnhaké:ton's genetic memories, relived by Desmond Miles in 2012 through the Animus.
Description
Connor came across strangers on the homestead, who were selling drinks to his friends. They turned out to be innkeepers who had lost their inn, and Connor helped them by financing the building of a new inn.
Dialogue
Connor walked up to a group of residents gathered around new-comers.
Oliver: Our ale is worth a taste, I promise you!
Lance: Afternoon.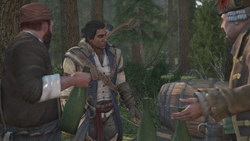 Oliver: Hello, sir. Would you like a draught of ale or some bread and cheese?
Godfrey: Connor! This here is Oliver and that is Corrine. Great people! Ollie! This is Connor, the man I was talking about. The LORD of the manor!
Oliver: We were passing through is all and met some of your townsfolk. They were thirsty and we had some barrels in the back and...
Connor: I am no lord and these are my friends, not my townsfolk. What brings you to the road with a cart full of spirits for sale?
Oliver: We WERE inn keepers until the King took our inn for some military such-and-such and left us out on our round parts.
Norris: Hey, you should settle here. We could use an inn.
Myriam: Good idea!
Oliver: We would! But without the inn itself we don't have much choice and building one isn't cheap.
Connor: We certainly have a need for something of the sort. I will speak with my friends at the mill and see what we can do about building ourselves one. If it can be arranged, would you consider ending your search here?
Corrine: Of course, Ollie! We'll have an inn again!
Connor raised enough money to build an inn.
Connor: This should suffice.
Oliver: Thank you! You won't regret this Connor, we promise!
Outcome
Oliver and Corrine joined the Homestead.
Gallery
References