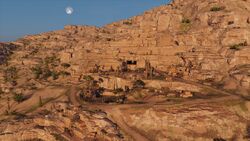 The Roman Quarry Camp, also known as Latomeio Camp[1], was a quarry situated southwest of the Aquaeductus Kyrenaike in the Green Mountains region of Cyrenaica, overseen by the Romans.
History
Around 47 BCE, a group of workers in the quarry under the leadership of Seker attempted to revolt against the Romans. One of the workers, Hapti, was unwilling to take part in the rebellion but was eventually forced to do so, sending a messenger to deliver a final letter to his wife-to-be Merope. The Romans responded with deadly force, slaughtering the workers and leaving their bodies to rot.[1]
The Medjay Bayek of Siwa later came upon the camp, having found Hapti's letter on the messenger, tortured to death by the bandits at the Necropolis Hideout in the mountains. Arriving too late to save Hapti's life, Bayek recovered the wedding bracelet Hapti had wrought, located Hapti's honey farm southeast of the quarry and gave the bracelet to Merope with his condolences.[1]
Trivia
Appearances
References
Community content is available under
CC-BY-SA
unless otherwise noted.