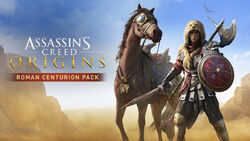 The Roman Centurion Pack is downloadable content for Assassin's Creed: Origins, it was released on November 7, 2017. It is one of the customization packs for the game, alongside the Horus Pack and is available for Season Pass owners. The pack will provide Bayek with 1 outfit, 1 shield, 1 mount and 2 weapons.
Description
Fight as one of Julius Caesar's greatest warriors with the Roman Centurion Pack. Donning the lion pelt of Rome's fiercest soldiers, complete your exclusive gear set with 2 weapons, 1 shield, and 1 mount.
Content
Outfits
Weapons
Melee
Shields
Mount
Gallery
Reference
Community content is available under
CC-BY-SA
unless otherwise noted.