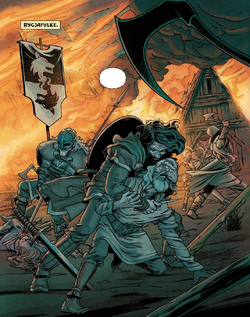 Rogaland, also called Rygjafylke in Old Norse times, is a county and region in Western Norway, bordering the North Sea to the west.
History
In the late 9th century, the village of Heillboer was raided by Vikings who served under Kjotve the Cruel, an enemy of King Styrbjorn of Stavanger. Seeking retaliation, Styrbjorn's adopted child Eivor led a few of their men to attack Kjotve's men in the village.[1] The attack failed, and Eivor was captured. Eivor escaped and killed Rikiwulf. After Kjotve sent spies to Fornburg Eivor and Sigurd responded by raiding Nottfall. Afterwards, they attacked Kjotve's Fortress. Killing Kjotve in the process.
Appearances
References
Community content is available under
CC-BY-SA
unless otherwise noted.