This article is about the sea. You may be looking for A Red Sea, the weekly contract.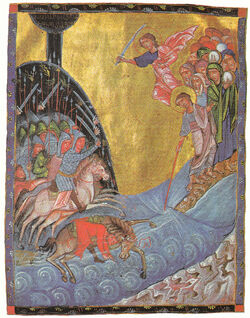 The Red Sea is a strategic body of water situated between Africa and Asia. In ancient times, the sea was also known as the Sea of Reeds.
Sometime between the 16th and 13th century BCE, the Hebrew prophet and religious leader Moses used a his staff to part the sea, allowing the Israelites to escape the pursuing Egyptians.
Around 38 BCE, the Hidden One Bayek of Siwa travelled across the sea in order to reach the Sinai Peninsula and assist the bureau leader Tahira and the Nabataean rebels under Gamilat in fighting the occupying Roman forces secretly lead by the Order of the Ancients.[1]
By the late 12th century CE, Moses' parting of the sea had passed into legend, with the Mentor Al Mualim of the Levantine Brotherhood of Assassins asserting that only a Piece of Eden could have had enough power to perform the feat.[2]
It was not until 2012 that the truth behind the event was revealed, when the late Assassin Clay Kaczmarek revealed to Desmond Miles in a Glyph puzzle that Moses' staff was in fact a Staff of Eden[3]
Appearances
References
Community content is available under
CC-BY-SA
unless otherwise noted.