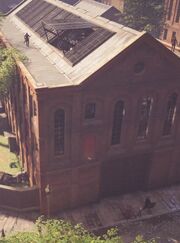 Red Growler Distillery was a business active in London, United Kingdom, in the early nineteenth century.
Red Growler was a cheap, strong drink which was very popular throughout London. However, once rumors started surfacing about the beer being a cause of blindness, it was banned from public consumption, and by the 1870s, no one had seen a shipment of Red Growler for years.
Their Westminster distillery was turned into a storage facility by the Blighters, operating under Lilla Graves, and was used to store explosives and weapons for the notorious street gang. In 1868, Clara O'Dea asked the twin Assassins Jacob and Evie Frye to infiltrate the facility and free the child workers inside.
After doing so, and assassinating the overseer, the Blighters in and around the warehouse were in disarray. This provided the opportunity for the Rooks to move in and take control of the building, weakening the Blighters' and Templars' control over the city.
References
Community content is available under
CC-BY-SA
unless otherwise noted.