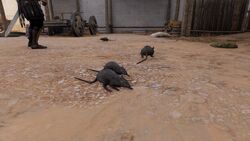 The rat (Rattus) is a genus of long-tailed rodents which favors urban environments.
History
Throughout human history, rats have made their homes in the urban environment of major cities, particularly those of less affluent districts. Across the world from Alexandria, Egypt in the 1st century BCE,[1] to Damascus and Acre during the Third Crusade,[2] Boston and New York City during the American Revolution,[3] and London in the midst of the Industrial Revolution, rats roamed the cities scouring or food and shelter.
Because of their association by humans with squalor, they were generally thought of as vermin, and the word "rat" was occasionally used as a metaphor for ignominious, petty individuals. Such was the case with the King of Beggars, a crime boss who ruled one of the worst slums of Paris, the Cour des Miracles, in the late 18th century. Offering his services to the Templar Order in 1789, he was coldly rebuffed by Grand Master François de la Serre, accused of having nothing to contribute other than the "intrigues of rats".[4]
Appearances
References
Community content is available under
CC-BY-SA
unless otherwise noted.