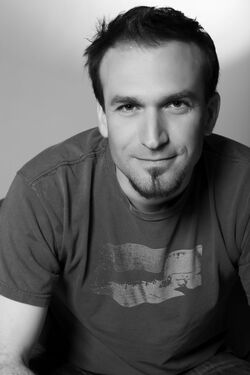 Raphael Lacoste was the Art Director for Assassin's Creed: Valhalla. He previously held the same position for Assassin's Creed: Revelations and was the Brand Art Director of the entire Assassin's Creed series from 2012 to his decision to step down in 2021.[1]
Biography
Lacoste was born in Paris in 1974. After a few years working as photographer and composer for a theatre company, he went to the animation school of the National center of the comic strip in Angoulême, France to learn Softimage. He did there his first short movie "Nîumb" which was screened at Siggaph, Imagina and anima-mundi 2000.
He worked then for Kalisto Entertainment as a Senior Background Artist. In 2002, he was contacted by Ubisoft to work as an Art Director on Prince of Persia: The Sands of Time. Lacoste went on to work on such titles as Prince of Persia: The Two Thrones and Assassin's Creed, winning a VES Award in February 2006 for his work on the "Two Thrones" cut scene. Wanting to challenge himself in the film industry, Lacoste stepped away from the game industry to work as a matte painter and Senior Concept Artist on such feature films as Terminator Salvation, Journey to the Center of the Earth, Death Race, and Repo Men.
As of 2009, Lacoste returned to the video game industry, working as a Senior Art Director for EA, and again at Ubisoft Montreal on the Assassin's Creed series; to this end, he became the Art Director for Assassin's Creed: Revelations.
Games credited
Trivia
Currently, Lacoste has been an Art Director on videogames and cinematics (CG) for a multitude of years.
Lacoste had teachers such as René Laloux, the director of "Time Masters", "Gandahar", and "Fantastic Planet". Raphael was very impressed by the work of his teacher and has stated that Laloux was his main inspiration to moving into the computer game industry.
He is particularly skilled in creating environments, moods, picture composition and lighting.
Gallery
Assassin's Creed
Assassin's Creed: Revelations
Assassin's Creed IV: Black Flag
Assassin's Creed: Rogue
Assassin's Creed: Syndicate
Assassin's Creed: Origins
Assassin's Creed: Valhalla
External links
Reference