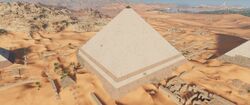 The Pyramid of Khafre, also known as Khafre's Pyramid, is an ancient Egyptian pyramid built during the reign of pharaoh Khafre in around 2570 BCE, and serves as his final resting place. It is the second largest of the pyramids in the Giza pyramid complex and the third largest overall, after the Great Pyramid of Giza and the Pyramid of Menkaure.
In 48 BCE, the pyramid was explored by the Medjay, Bayek of Siwa, who deciphered an Old Kingdom stele in Khafre's tomb chamber.
Gallery
Appearances
References
Community content is available under
CC-BY-SA
unless otherwise noted.