Protect the Clinic was a virtual representation of one of Ratonhnhaké:ton's genetic memories, relived by Desmond Miles in 2012 through the Animus.
Description
After completing the Liberation Missions in West New York, Connor met Jamie Colley by a doctor's cart, to discuss stopping mercenaries spreading smallpox in the area ravaged by the Great Fire.
Dialogue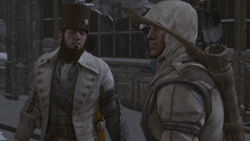 Jamie: About time you showed up.
Connor: What are you doing?
Doctor: I mean to start my inoculations. It's the most effective way to prevent the disease.
Jamie: Not a worry, a pity people are so damned stupid. Eh Connor?
Connor smirked, but spotted a mercenary.
Jamie: What's wrong with you?
Connor: An attack is coming. Are you ready for a fight?
Jamie: Always. You tell me where you want me and I'll make sure not a single man gets through.
Connor set up ambushes for the approaching mercenaries.
Connor: The Assassins have long since branched out across the globe. The Colonies are no exception. The man you killed was a Templar.
Jamie: And here I was thinking you were helping me. I must say I'm honored. Huh. If you ever need my help again - don't hesitate.
Outcome
Connor recruited Jamie, who taught the apprentices the Ambush ability. Connor also gained the key to the treasure chests in West New York.
Trivia
A glitch caused Connor's hood to come down in the final dialogue scene, exposing the character's scalp with much shorter hair than usual.
Gallery
References
Community content is available under
CC-BY-SA
unless otherwise noted.