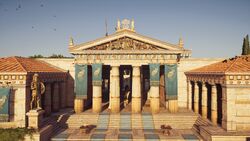 The Propylea, alternatively the Propylaia, was a monumental gateway which marked the entrance to the Akropolis Sanctuary in Athens, Greece.
Constructed of Pentelic marble, the gateway had a central building with five gates and it marked the end of the Sacred Way between the acropolis and the Sanctuary of Eleusis.[1]
Part of the statesman Perikles' plan to adorn the Akropolis with magnificient monuments, the gates constuction began in 437 BCE under of the supervision of either Phidias or Mnesikles. However, the start of the Peloponnesian War in 431 BCE caused the construction to be suspended. As a result, only the main building, which featured both Doric and Ionic columns, was finished.[2]
Appearances
References
Community content is available under
CC-BY-SA
unless otherwise noted.