GTA: The Criminal Enterprises - The Loop
Play Sound
Prologue was a virtual representation of one of Eivor Varinsdottir's genetic memories, relived by Layla Hassan in 2020 through the Portable Animus HR-8.5.
Description
Eivor's family invited King Styrbjorn Sigvaldisson to Heillboer for a feast.
Dialogue
The voice of a Seer could be heard in the cosmos.
Seer: Silence, you children of gods... And heed my tale of time's beginning. All was dark. There was no sand, there was no sea. No earth nor sky, no grass nor wind. 'Til fire met ice in the

gasping void

. And from this scream came the giant Ymir, first of all beings... Proud Ymir, cruelly killed. Yet from whose bones and blood and brains the world was made... The world you walk and war upon...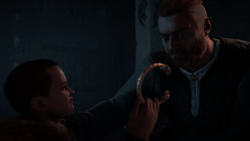 The vision slowly dissolved to a young Eivor finding a ring in a chest of a side-room of a longhouse.
Young Eivor: There you are.
She opened the door, approaching the feast taking place in the main hall. A skald approached her.
Skald: Eivor, here's a tune for you! One to liven your step.
Eivor continued inwards and approached behind her father Varin, who was drinking with another villager that suddenly held him in his arms.
Varin: Ah, there you are, my little drengr.
Varin gently let go of the villager.
He approached Eivor.
Varin: So, did you see our king?
Eivor pointed towards the fireplace.
Varin: Yes, good. Come, Eivor. Did you find the... the ring?
Eivor lifted up the ring, showing it to her father.
Varin: Yes. Now... now for our little plan. When you see us talking, be quiet as a wood mouse and then surprise him with our gift. And you hold it out like this and look him in the eyes and you say, "Styrbjorn King, may our clans be forever bonded in friendship and in love." You think you can do that for me?
Eivor nodded.
Young Eivor: Mm-hmm.
Varin: Good. Tonight, you will be the cord that unites our people. And I'm so proud of you, Eivor.
Varin gave Eivor a kiss on her head before leaving to continue drinking.
Varin: Get up,

Olaf

! Stay lucid, friend!
Olaf: My sword is gore-greedy. I am ready to fight!
At some point, Eivor stopped to dance a bit to the tune of the skald. She then continued to walk through the hall among its revellers, spotting Holger lying in the ground while holding an empty horn, with Tove by his side.
Holger: I hewed the heads of joyless hel-dogs! I imbibed Odin's brew and I snipped the scraggly beards of troll-kings! I danced naked upon the bleaching beaches...
Tove: Drink, Holger. And save your poems for your king.
Holger: He is your king as well.
Tove: He is, but I don't have to sing his praises for my meals.
Holger: Hello, little one! Ready to celebrate this great day?
Young Eivor: I have a gift for the king. Then I will dance.
Holger: Good! Kings love those arm-fetters. Raise your horn with me, Tove. Tonight we sleep in the heat of clan-fire. Made happy by mead.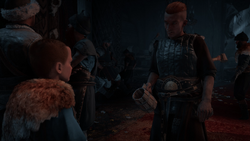 Eivor continued onwards before being stopped in her tracks by Sigurd.
Sigurd: O! No drink in your fist? Come on. I'll find you something.
Eivor: I can't. I have a tribute for your father.
Sigurd: O, what a piece! That must be worth two sturdy longships! Give it here. I'll pass it on.
He tried to take the ring from her, but she swiftly moved her hand away.
Young Eivor: My father asked me, Sigurd.
Sigurd: Suit yourself. But you're not getting any mead!
Sigurd left and she continued her walk through the feast.
Norse Man: Valka's seiðr works through my hammer! (laugh)
When passing by another table, Eivor spoke with Gunnar, who was in the middle of a arm wrestle with another villager.
Gunnar: When you speak with the king, hold it up to the light, show him the fine details. See there? I etched his name in runes, on the outer bend. You'll show him?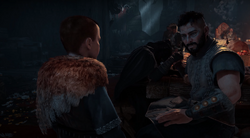 Eivor looks to the details of the ring, nodding afterwards.
Eivor: Mm-hm.
Gunnar: You are just like your father, little berserker! Skal to you!
Norse Woman: Skal! (Cheers!)
At this point, Gunnar beat the hooded opponent and pointed to the woman that had spoken, as the villager left the table, grabbing the sore arm.
Gunnar: You see? She agrees!
Eivor left the blacksmith, who readyed himself to wrestle another opponent, and proceeded forward, heading towards the kitchen table, where her father and mother Rosta were at. Varin gave Eivor a headpat before leaving her to Rosta.
Young Eivor: (giggle)
Rosta: So, you have the ring? Good. This was worn by

your grandfather

in a battle on the Northern Way.
Young Eivor: Mother?
Rosta: Yes?
Young Eivor: Can we show Sigurd the cairn stones we stacked yesterday?
Rosta: That's a good idea. We'll do that in the morning, at first light.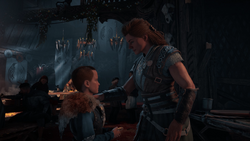 The two watched as a villager pushed down another man down to the ground from the upper deck, leading to an uproar of laughter.
Rosta: Now go. You have a gift to deliver.
Eivor approached the throne table where Varin was standing next to King Styrbjorn.
Varin adressed the crowd of warriors and villagers, in order to raise attention to the following event.
Varin: Skal to Styrbjorn, the true King of Rygjafylke! Tonight we are all made anew! Skal!
The clan raised their glasses in praise of Styrbjorn.
Varin: Eivor. Eivor, come.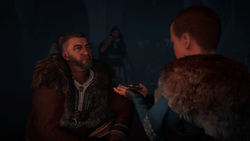 Eivor, holding the ring in her palms, approached Styrbjorn.
Young Eivor: King... May our clans be forever bonded in friendship and love.
She handed the ring towards the king.
Styrbjorn: Thank you, Eivor. Now and forever, I am pledged to you. (laugh)
Varin began reciting a skaldic poem and the crown accompanied the tune.
Varin: Harken well in hall of kings...
Norse Soldiers: Hoo! Haa! Hoo! Ha!
Varin: On ocean-steed, my words gain wings.
Odin's mead, I forth will bring.
For noble deeds, thine honor sing!
Norse Soldiers: For noble deeds, thine honor sing!
Varin carried Eivor on his arms.
Varin: The brave men slain, Valkyrjur wakes...
Norse Soldiers: The brave men slain, Valkyrjur wakes!
Varin: Reward for strain to Valholl takes!
Norse Soldiers: Reward for strain to Valholl takes!
Varin: Then horns resounds the mighty hall!
Norse Soldiers: Then horns resounds the mighty hall!
Varin set his daughter down on a nearby table.
Varin & Norse Soldiers: For those who fight, for those who fall—
All of a sudden, the main door blew open as two Norsemen entered in a panic, with an axe striking the door as loud horn was heard.
Norse Warrior 1: We're under attack!
Varin: Ready yourselves, men! Ah!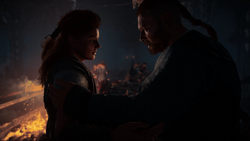 The villagers set out to go to battle, including Rosta and Varin, though Eivor remained behind.
Varin: Good Rosta, go. Not you, Eivor. Not just yet.
Unheeding her father's warning, Eivor approached the main door, passing by a disturbed Svala.
Svala: It is foretold. The curtains are raised. Nothing is true until it is severed from the branches of Yggdrasil.
As the child left the hall and tried to pull the axe off the door, a Viking was about to kill Eivor but her mother intervened, eliminating the warrior and bringing her to safety.
Rosta brought Eivor up upon a cart while defending herself against Kjotve's men using a torch. She then reached for Eivor from the cart and carried her on her left shoulder.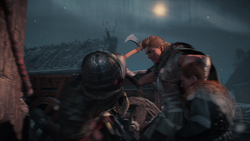 The woman approached the stables while eliminating more of the attackers. Eivor, now in the ground, bumped into a white and brown horse, scaring it. Rosta then seated Eivor on the horse.
She heard a woman pleading for help.
Norse Woman: Stop! Please!
Rosta: Ride! Go!
Leaving Eivor behind, Rosta entered the stables to assist her fellow civillian, not noticing an attacker following behind. Eivor, having noticed the ambusher, got down the horse and picked up a sword, dragging it along as she entered through the building window. She watched as her father defended himself against Kjotve's men, destroying a fence in the process.
Varin: Kjotve! Show yourself!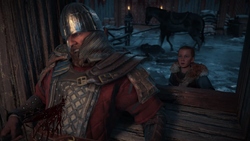 As Eivor carried the sword over the window, it pierced the attacker who was pushed into it by Rosta. Noticing her mother struggling against another attacker, Eivor jumped over and distracted the enemy.
Siezing the opportunity, Rosta killed her distracted opponent. As another Viking attempted to drag Eivor away, Sigurd entered the room and easily slew him with his weapon.
Sigurd: Grah!
Young Eivor: Sigurd!
Eivor hugged him, in despair. Meanwhile outside at the statue of Odin at the centre of the village, Varin fought against Kjotve.
Varin: Kjotve! Let's end this bloodshed.
Kjotve the Cruel: O, I will!
As Rosta gave the deceased villager a proper rite, a fire arrow was launched on the stables' hay.
Rosta: Speed to Valhalla.
Norse Warrior: Fire!
Rosta ordered Sigurd to take the girl out of the borough.
Rosta: Sigurd, take the horse.
Sigurd: Alright, wait here.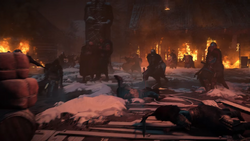 Sigurd left the cottage by leaping over the window. Eivor then hid behind a bunch of barrels and watched as her clan members were defeated or captured one by one, including her own mother.
Kjotve the Cruel: Now it's my turn to offer you a deal, slave-whore. Accept your fate and die a coward, here before your people... and I will spare the rest.
Rosta: Fight, my love! Do not listen!
He looked around, seeing that there wasn't another option.
Varin: If I give my life, will you spare my clan?
Kjotve the Cruel: You have my word.
Varin knelt down, leaving his axe in the dirt, lowering his arms. His wife kept trying to break free from a soldier's grasp.
Rosta: No, no, Varin! No Varin! Pick up your axe.
Left defenseless, Varin was decapitated by Kjotve.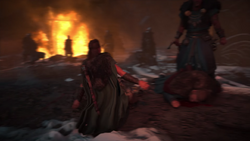 Rosta finally freed herself from Kjotve's men and charged towards Kjotve, only to be killed by a throwing axe.
Kjotve the Cruel: Kill them all!
Before Eivor was killed, Sigurd rescued her on horseback and escaped the village. While dodging arrows being shot at them, the horse was knocked down by one of Kjotve's men, throwing Sigurd and Eivor off the cliff, with the horse and Eivor landing on a frozen lake. Stunned by the fall, she looked the aurora-borealis filled sky as a raven flew by them. The horse stood up, but his weight made the ice crack, causing the animal to drown, after struggling for a few seconds. As the cracks reached the child, a wolf reached her and attacked. Eivor tried to fend it off but the wolf ended up biting her in the neck. As she began to lose conscious, she saw herself reaching for a closing door to a bright room. She screamed in pain, scaring the wolf for a short period of time.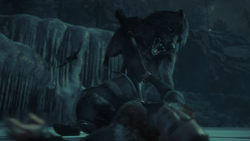 Suddenly, as if they had heard her, a pair of ravens flew over to the scene and began attacking the wolf, allowing Eivor to slowly crawl to her axe and hit the wolf in the throat, right in the moment when it would deal the final blow. At this point, the memory became extremelly unstable as two different DNA streams began to conflict with each other, causing the Animus simulation to finally collapse.
Outcome
Eivor's parents were killed during a raid by Kjotve the Cruel. She was adopted into the household of Styrbjorn Sigvaldisson.
Behind the scenes
The seer's beginning monologue is an alternate translation of lines 1-2 and all of stanzas 3 and 4 in the Völuspá, the Poetic Edda's opening poem.
References
Assassin's Creed: Valhalla memories