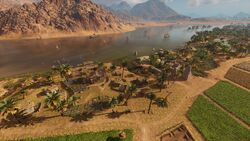 Pr-Hapi-n-Iwnw was a partially submerged ancient Egyptian village situated east of Per Ousir by the Nile in Ineb-Hedjet Nome.
The village was explored by the Medjay Bayek of Siwa sometime in 48 BCE, during his journey to Memphis.
Trivia
The name "Pr-Hapi-n-Iwnw" stands for "Nile house of Heliopolis", referring to the god of the yearly flooding of the Nile, Hapi, whose dwelling it was believed to be.
Appearances
References
Community content is available under
CC-BY-SA
unless otherwise noted.