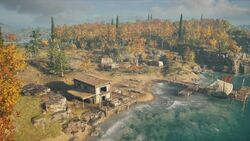 Potidaia, alternatively Potidaea, was a small Korinthian colony located at the western most of the Chalkidike peninsula in Makedonia, Greece.
Founded by Korinth to make trade easier in Makedonia, the colony sought the help of Sparta and Korinth against Athens and their excessive demands, leading to a siege by Athens. This battle served as a catalyst for the Peloponnesian War.[1]
During the war, the partly destroyed colony was visited by the Spartan misthios Kassandra.[1]
Appearances
References