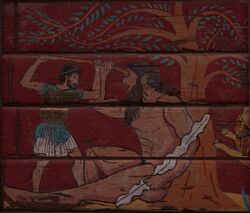 Polyphemos was one of the Cyclopes, hybrid beasts created by the Isu as part of the Olympos Project.
Mythology
In Homer's Odyssey, the hero Odysseus along with his crew ended up on the island of the Cyclops while on his way home to Ithaka. As they explored the island, they found a cave and hungry, ate all they could find. Meanwhile, Polyphemos returned with his flock, and trapped Odysseus and his men within the cave, proceeding to eat them, one by one. Odysseus introduced himself as 'nobody', offered wine to the Cyclops, and waited for him to fall asleep. After the Cyclops had fallen asleep, Odysseus blinded him with a torch. In pain and enraged, the Cyclops opened the cave, running out to yell at his fellow Cyclops about being blinded by 'nobody'. Meanwhile, Odysseus and the remainder of his men escaped the cave hiding under the bellies of the Cyclops' flock.[1]
Legacy
By the time of the Peloponnesian War, murals which depicted Odysseus' encounter with Polyphemos could be found throughout Greece. The Spartan misthios Kassandra also came upon a weapon named after the Cyclops.[2]
Trivia
Appearances
References
↑ Assassin's Creed: Odyssey
Community content is available under
CC-BY-SA
unless otherwise noted.